SOS Médecins
About SOS Médecins
SOS Médecins – Burkina Faso is a medical humanitarian association created in 2006 by health professionals (doctors, pharmacists, biologists, nurses…) and other members of society. The organisation's social mission is to come to the aid of populations in distress, disaster-stricken communities and populations made vulnerable by disease (HIV, malnutrition), age, incarceration or precarious social or economic contexts. The health needs of these populations are particularly acute.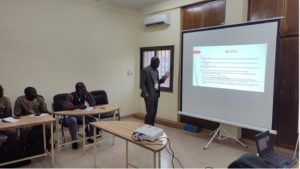 Their activities
Support actions for prevention, health promotion and  disease management
In Burkina Faso's prisons, with a focus on frequent and poorly covered diseases, and on children, minors and female prisoners).
Implementation of a mask and soap manufacturing project during COVID to counter the spread of the epidemic in the prison environment and to enable prisoners to obtain new professional skills
Support, training and expertise
Drafting of national reference documents or the development of training programmes related to HIV in prisons.

Actions to combat antibiotic resistance through awareness raising.
Within the consortium with the NGOs ALIMA and KEOOGO
Management of pediatric emergencies and severe acute malnutrition
Support for the medical care of displaced persons in the Sahel and central-northern regions of Burkina Faso following security instabilities
Response to the Covid-19 pandemic through medical and psychosocial care in the university and regional hospitals
The establishment from 2023 of a DIU (Inter-University Diploma)
On viral haemorrhagic fevers, arboviroses and other emerging epidemics in Africa, in partnership with WHO, the University of Paris Sorbonne Nord (France), the NGO ALIMA (Alliance for International Medical Action), teachers from several African universities and the Burkinabé ministries.
Our partnership
In order to accelerate climate action and resilience to climate change within national NGOs in Africa, SOS Médecins Burkina Faso became a partner of the Climate Action Accelerator in January 2023. The association is committed to moving towards a sustainable, resilient and low-carbon development model, while strengthening its medical action in favour of populations and communities and its capacity to respond to and prepare for the consequences of global warming.
This partnership includes :
a commitment to pursue a sustainable, resilient and low-carbon development model
regular, transparent and public measurement of its environmental impact
participation in a collective cycle with other similar partners to build together a tailored roadmap and priority implementation projects and participation in the three pillars of the initiative
Cover photo © SOS Médecins