Organisations can eliminate unnecessary packaging, especially single-use plastic, use alternative packaging materials, innovate to reuse and repurpose packaging and invest in local collection and recycling facilities.
Why is tackling packaging important?
Aid organisations rely on packaging for the transport of food and non–food items to beneficiaries – plastic in particular. Plastic packaging is cheap, light and versatile and became a dominant material of our economy. Yet, the negative impact of plastic debris in the environment is widely documented. Plastics are littering beaches, clogging up municipal sewage systems and are found in the deep sea, as well as the most remote mountain areas (1). Due to their small size and low value, plastic packaging is particularly prone to end up in the environment and many countries lack the infrastructure to collect and recycle plastic waste. In addition, greenhouse gas emissions are released through the extraction and refining of fossil fuels, the raw material for plastics, as well as through the energy-intensive process of plastic production and the incineration of plastic waste.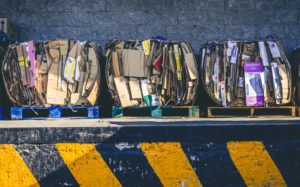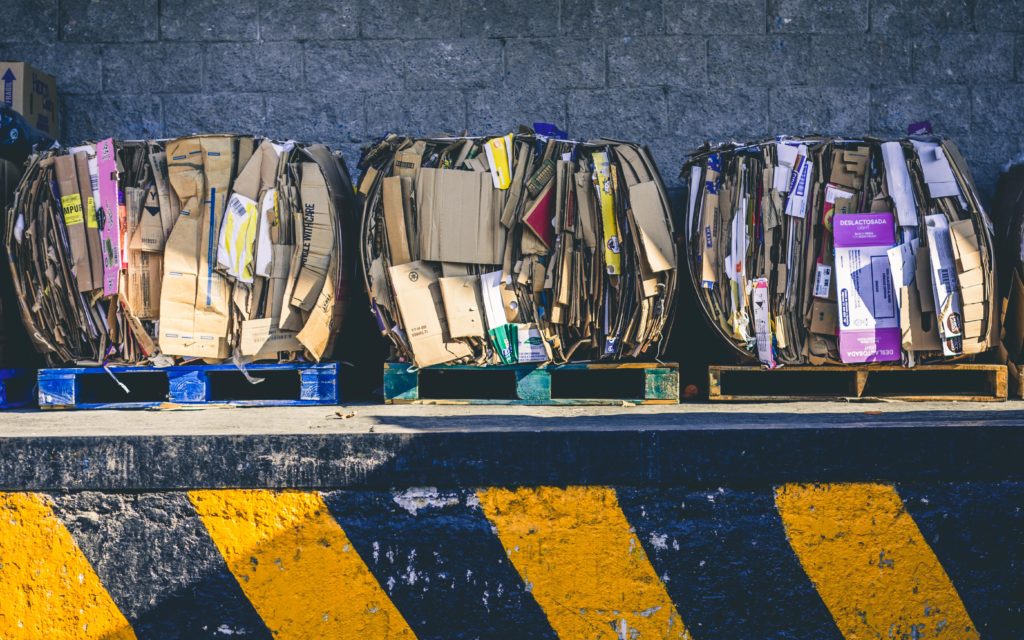 Key solutions
#1 Eliminate unnecessary or problematic packaging

Reduce (single-use) packaging to the minimum and  eliminate problematic materials. Discover more

#2 Adapt the product format

Reduce packaging by adapting the product format.

#3 Opt for reusable packaging

Avoid single-use packaging and switch to reusable packaging.

#4 Repurpose packaging

Re-design or re-use packaging for a different purpose. Discover more

#5 Reduce the impact of packaging raw materials

Switch from fossil-based virgin feedstocks to recycled or renewable materials.

#6 Choose recyclable packaging material

Use recyclable or compostable packaging material.

#7 Invest in recycling and collection infrastructure

Facilitate and invest in local collection and recycling.
Sources
(1) Adane et.al., 2011, Survey on the usage of plastic bags, their disposal and adverse impacts on environment: A case study in Jimma City, Southwestern Ethiopia, Journal of Toxicology and Environmental Health Sciences Vol. 3(8) pp. 234-248; Chiba et.al., 2018, Human footprint in the abyss: 30 year records of deep-sea plastic debris, Marine Policy, Vol. 96, pp. 204–212; Allen et.al., 2019, Atmospheric transport and deposition of microplastics in a remote mountain catchment, Nature Geoscience, Vol. 12, pp. 339–344.
(2) CITEO, Panorama des emballages ménagers en France, 2022. Read here.
(3) Ellen MacArthur Foundation, The New Plastics Economy: Rethinking the Future of Plastics & Catalysing Action, 2017. Read here.
(4) Geyer, Jambeck, and Law, 2017, Production, use, and fate of all plastics ever made, Sci. Adv., 3 (7), Article 1700782.
(5) Ellen MacArthur Foundation, The New Plastics Economy: Catalysing Action, 2017. Read here.
(6) UNEP, Historic day in the campaign to beat plastic pollution: Nations commit to develop a legally binding agreement, 2022. Read here.
(7) UN Principles for Responsible Investment, The Plastic Landscape: Regulations, Policies and Influencers, 2019. Read here.
(8) Ellen MacArthur Foundation, The European Plastics Pact. Read here.
(9) Environmental Emergencies Centre, Joint Initiative on Sustainable Humanitarian Assistance Packaging Waste Management. Read here.
(10) ICRC Afghanistan Pilot: Replacing Plastic with cardboard in NFI Distributions. Read here
(11) ACTED Lebanon: A holistic approach to reducing and managing waste. Read here
Cover photo © Marcell Viragh/Unsplash.