Light vehicles, including passenger cars, account for about a third of global oil demand and produce about half of all transportation-related greenhouse gas emissions. Soft mobility can significantly cut passenger car-related emissions. (1)
Key actions
#1 Bicycle parking

Install covered and secured bicycle parking.

#2 Provide facilities

Provide changing rooms and showers.

#3 Offer bike maintenance

Provide basic bike maintenance kit at the office (pump, patches).

#4 Provide financial incentives

Offer financial incentives (cover part of the cost of (e) bikes, provide mileage allowances).

#5 Organise green events

Join or organise events such as a Bike to Work or a Bike Repair Day.

#6 Facilitate bicycle access

Provide bikes for local business travels.

#7 Involve municipalities

Encourage the municipality to install bike-friendly infrastructure (paths, parking, bike-friendly trains).

#8 Join forces

Mutualise and join forces with other organisations following a similar approach.
To consider
Potential co-benefits

Prevention of physical diseases (diabetes and cardiovascular disease)
Improvement of sleep
Mental health benefits
Reduction of transportation costs
Reduction of congestion

Success conditions

Communication on organisational incentives
Raising awareness among staff

Prerequisites & specificities

Living relatively close to the workplace
Pedestrian and cycle paths
Know how to ride a bike
Access to bicycles
Access to covered and secured bicycle parking

Potential risks

Safety risks in certain areas (accidents)
Bicycle theft
Social (people's eyes)
Delays in case of modal shift due to weather constraints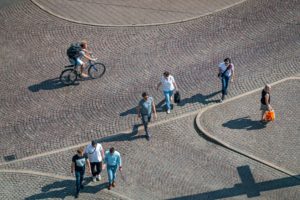 To go further
Pan-European Master Plan for Cycling Promotion

Riding Towards Green Economy: Cycling and Green Jobs – A Joint Report by UN Environment-WHO-UNECE

Read here
Sources
(1)  The ICCT – Light vehicles. Read here
(2) Stay grounded- What is the impact of aviation? Read here
(3) IEA – Playing my part, 2022. Read here
(4) Mobility plans: a guide for companies and institutions. Read here
(5) CERN (SCE) – Person transport demand. Read here
(6) CERN (SCE) – Bike rental. Read here
(7) CERN (SCE) – Bike sharing pilot. Read here
(8) CERN – Creation of cycle lanes on the Meyrin and Prévessin sites, 2020. Read here
(9) Infomaniak – Ecology. Read here
(10) UN General Assembly – Resolution adopted by the General Assembly on 12 April 2018. Read here
(11) Club Abidjan Ville Durable. Read here
(12) Le media citoyen – Reportage Abidjan: ces écolo préfèrent le vélo, 2019. Read here
(13) Twitter – #pédalonspourlecoeur, 2021. Read here
(14) RTI officiel (Youtube) – Environnement: Plus de 100 Eco-citoyens à vélo à l'université Félix Houphouët Boigny, 2016. Watch here
(15) Le petit journal – Sama Vélo, pour la promotion du vélo au Sénégal. Read here
(16) Twitter – Sama Vélo, 2019.  Read here
(17) UN Habitat – Making commuting easier, 2019. Read here
Cover photo © Joshua Rawson Harris/Unsplash.