Why is it important?
High indoor temperatures can lead to discomfort, increased health risks, and decreased productivity. These risks are all amplified with climate change as heat waves increase in intensity and frequency. Managing thermal comfort therefore becomes crucial (1).
In addition, the hundreds of thousands of dark coloured roofs and roads in large cities (which absorb heat from solar radiation) increase urban temperatures: this is the urban heat island effect.
To counter rising temperatures, air conditioning is commonly used, significantly contributing to energy consumption and greenhouse gas emissions. Air conditioning can account for 20% of energy consumption in large office buildings, and a simple variation of 1°C can represent 10% in energy savings (2). As well as being a major source of greenhouse gas emissions – energy consumption is heavily reliant on fossil fuels – air conditioning also uses other powerful greenhouse gases such as hydrofluorocarbons (HFCs).
Greening roofs and walls would help regulate a building's temperature, reducing energy consumption. This "passive" temperature regulation is both an adaptation and mitigation measure against climate change. Vegetated surfaces insulate buildings in both summer and winter, the biomass acting as a thermal insulator, reducing energy requirements for heating and cooling. More broadly, green buildings help limit the overheating of cities in summer thanks to plant evapotranspiration.
In addition to energy benefits, installing a green wall provides added long-term comfort. Depending on the chosen facade type, it is possible to reduce noise pollution from traffic by up to 8dB, retain rainwater (between 4 and 38 mm), capture particulate matter, improve air quality, and serve as urban biodiversity shelters (3).
What is the solution?
A green wall involves planting vegetation on a wall or rooftop. There are several types:
Green facades cover building surfaces with climbing or creeping plants. These can be installed using trellises, grids, cable systems, prefabricated panels, or modular systems. Unlike green roofs, green facades can be developed from the ground up. Depending on the plant type, they could be relatively low maintenance.
Extensive green roofs are lightweight, shallow installations that use thin substrate layers (around 10 to 20 cm) to support robust and resilient vegetation such as succulents and grasses. They are generally low-maintenance and designed for limited biodiversity.
Intensive green roofs are thicker and heavier installations allowing a variety of plants, including trees, shrubs, and vegetable gardens. They require deeper substrate (30 cm or more) and need require regular watering, plant pruning, and more intensive management.
Balconies and terraces can be greened using planters, containers, or vertical planting systems. They provide space for growing plants, vegetables, and herbs, directly benefiting building occupants (4).
Point of attention
It is important to select local endemic plants and avoid invasive species, as their impact on the environment can be particularly harmful when they colonize local ecosystems.
Melliferous plants should be prioritized as they attract pollinators and beneficial insects.
Some plants can grow uncontrollably (such as bamboo) or damage surfaces they climb on because their roots penetrate the walls (like ivy). It is better to avoid this type of vegetation or implement risk mitigation measures (such as installing a grid).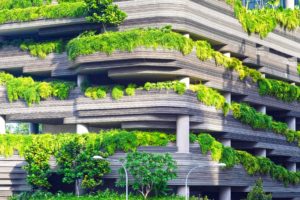 Key actions
#1 Evaluate various options

Assess climate-friendly options such as white roofs, solar panels, green walls, and rainwater harvesting, considering feasibility, advantages, disadvantages, resource requirements (water, energy, labour), installation and maintenance costs, and complementarity.

#2 Assess building potential

Evaluate the building's site, climate, soil type, and structural constraints to determine greening project possibilities. Consider all sunny outdoor surfaces and surroundings. For intensive green roofs, consult a professional to evaluate your roof's load-bearing capacity. Make a realistic projection of the project's physical impact on existing infrastructure, including responses to precipitation, high temperatures, and strong winds.

#3 Choosing a suitable approach and system

Select the greening project type aligning with building criteria and establish objectives (biodiversity, energy, aesthetics, insulation, etc.). Develop a greening plan and minimize water usage, promote water reuse, prefer closed-loop water supply, and hydrate/water the system at night. Identify and mitigate adverse effects (choose mosquito-repellent plants).

#4 Establish a budget

Develop a realistic budget covering installation, long-term maintenance, and energy savings projections.

#5 Select the right plants

Choose plant species adapted to local climate conditions, site requirements, and project goals. Select non-invasive plants with appropriate maintenance demands compatible with the surfaces they will grow on/climb.

#6 Maintain the installation

Plan regular maintenance and train personnel.
To consider
Potential co-benefits
Reduced electricity bills
Thermal comfort for occupants (due to reduced indoor temperature)
Mitigation of the urban heat island effect
Biodiversity protection (plants, insects, birds)
Occupant well-being and stress reduction (proximity to greenery)
Improved air quality (dust, particulate matter, pollutants)
Roof protection against physical damage (due to severe weather)
Reduced noise pollution (acoustic insulation)
Rainwater retention
Conditions for success
Integration of vegetation from the design phase of new buildings or rehabilitation projects.
Involvement of a competent architect or professional to ensure building structural integrity.
Selection of plant species adapted to local climate (endemic, water consumption).Anticipated water consumption, adapted to local water context and minimized (rainwater or treated wastewater)
Prerequisites and special features
A feasibility study is essential and must consider building structure.
Local construction and urban planning regulations must be considered.
Potentials risks
Water leaks if the installation is not done correctly.
Stagnant water that can favour mosquito and disease propagation if the installation is poorly designed.
Invasive plants, uncontrollable growth, or complex maintenance if plant selection is incorrect.
Additional weight of soil and plants can weaken an unsuitable structure.
Excessive water consumption in regions with high water stress, depending on plants and systems.
Tools and goods practices
To go further
Webinar – White, Green, or Double Roof – How to Design Roofs to Reduce Energy Consumption?

(in french) A webinar organised by the Climate Action Accelerator on roof design to reduce a building's energy consumption, contributing to occupants' interior thermal comfort and cost reduction. Cool Roof France presents its reflective white paint, Greenskin presents its planted and insulated roof solutions. Examples of green roofs and double roofs are also showcased. The webinar is available for review.

Find here

Reasoned Irrigation of Roofs, Ecovegetal

(in french) This page explains why and how to implement an irrigation plan.

European Scout Region of the World Organization of the Scout Movement
Sources
1 United Nations Environment Programme (UNEP) and the International Energy Agency (IEA), Cooling Emissions and Policy Synthesis Report: Benefits of cooling efficiency and the Kigali Amendment, 2022. Read here
2 ADEME, Eco-Friendly at the Office: Effective Actions and Good Resolutions, 2020. Read here (in french)
3 Ecohomes, Green Wall, what impact on expenses? Read here
4 Batiadvisor, Everything You Need to Know About Green Roofs. Read here (in french)
5 United States Environmental Protection Agency, Using Green Roofs to Reduce Heat Islands,2022. Read here
6 United States Environmental Protection Agency, Use of Green Roofs to Reduce Heat Islands, 2022. Read here
7 Environmental News, The Green Roofs Growing Trend, 2023. Read here (in french)
8 International Energy Agency, Energy saving actions by EU citizens could save enough oil to fill 120 super tankers and enough natural gas to heat 20 million homes, 2022. Read here
9 The Conversation, Growing plants on buildings can reduce heat and produce healthy food in African cities,2022. Read here
(10) Nature, New York's sustainable roof laws, 2019. Read here
(11) Irrigazette, Casablanca: the first green towers in Africa,2019. Read  here (in french)
(12) Greenskin, Our plant architecture achievements. Read here (in french)
(13) France3-regions, Toulouse: a vegetable garden on the roof of the Pasteur clinic, 2020. Read here (in french)
(14) Greenroofs, How Buildings in Johannesburg Could Benefit from Green Roofs, 2019. Read  here