Why is business travel important
Transport has the highest reliance on fossil fuels of any sector and accounted for 37% of CO2 emissions from end‐use sectors in 2021 (1). 
Almost 40% of particulate matter (PM2.5) comes from transport (2). Business and professional travel account for 15% of travel globally. (
3
)(
4
) The share of international travel by air has increased from 46% in 2000 to 58% in 2018, while international land transport has decreased from 49% to 39% in the same period (train travel representing 2% in 2018).
Business travel is one of the greatest contributors to an organisation's carbon footprint. This is especially true for the aid sector, which provides assistance worldwide. Meetings, training, missions, evacuations, home leave – people travel for many reasons.
What is the solution?
The solution is to reduce travel – especially by air – by shifting from face-to-face meetings to remote meetings and training. Telepresence solutions include a variety of video systems, such as high-end immersive telepresence, multipurpose-room systems, desktop systems, videophones, and cloud-based software systems (such as Skype or Zoom).
What are the gains?
When estimating the climate gains of a measure, it is important to assess the carbon footprint of alternatives considered. While virtual conferences emit far less greenhouse gas emissions relative to their physical counterparts, they still have an impact on the environment. (5) (6)
Increasing the share of online meetings also provides an opportunity for an organisation to improve the work-life balance of their employees and reduce spending on transport.
COVID-19 lessons learned
Travel is not always necessary to meet the objectives of a meeting. Organisations and individuals learned this lesson from the Covid-19 crisis and have adapted. New videoconferencing tools were adopted or generalised as alternatives to face-to-face meetings. Most organisations experienced a clear success through this year of essential-only travel. This also worked well, because, since everyone was affected, the "fear of missing out" was reduced. On the other hand, some organisations realised the value of face-to-face interaction, as a lot of informal and non-verbal communication is lost in videoconferencing. As lockdown measures are disappearing, the standardisation of these new business travel practices is on the table.
Is it easy to implement?
The "online meetings solution" is relatively easy to implement, but it must not contravene the organisation's primary objectives. Non-essential travel should be identified at the organisation level (headquarters' missions, training, business meetings) and at the work unit level. The solution is easily measurable, reportable and verifiable. It has a high symbolic value, improves staff well-being and saves a significant amount of money.
To ensure effective implementation of the solution, an overarching global target should be set at the organisation level and reflected in the organisation's travel policy. This overall target should then also be broken down by work unit by the heads of unit. These managers are in the best position to know the professional realities and needs, to identify the margins of progress, to exchange with their teams and take action. Working at this level is crucial and also allows for staff empowerment and commitment.
A monitoring system of kilometres travelled, and their associated carbon footprint, could be put in place (in collaboration with the travel agency) to evaluate the implementation throughout the year and adapt if necessary.
For some employees, travelling abroad for professional reasons may be seen as an important benefit. Sometimes it is also a key reason for choosing a job. Awareness campaigns are crucial to ensure staff acceptability of the travel reduction measure and to promote its benefits.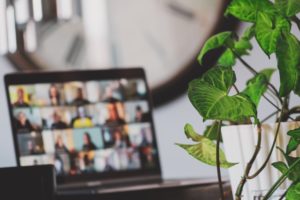 Success stories
Potential co-benefits

• Reduction of transport costs
• Time savings and improved work-life balance
• Health-related benefits (less time spent in transportation, less jet lag, better sleep)
• Efficiency gains (employees are more rested and do not loose time in transit)
• Comfort of being at home or in the office

Success conditions

• Strong and vocal political will from leadership
• Set clear reduction targets, at different levels
• Increase awareness and empower staff

Prequisites & specificities

• Access to appropriate IT tools, materials and internet connection
• Some remote locations do not have the necessary connectivity to ensure online meetings

Potential risks

• Reluctance from some employees who consider business travel as an acquired professional benefit
• Social isolation
• Health effects related to the excessive use of screens
• Weaker information protection (depends on IT facilities)
Sources
(1)Improving the sustainability of passenger and freight transport, IEA, 2023. Read here.
(2) Air pollution sources, European Environment Agency, 2021. Read here.
(3) International Tourism Highlights, World Tourism Organisation, 2019. Read here.
(4) Expenditure of business tourists worldwide from 2001 to 2021, Statista. Read here.
(5) ADEME, Etude sur la caractérisation des effets rebond induits par le télétravail, 2020. In French. Read here.
(6) Grant Faber, "A framework to estimate emissions from virtual conferences," International Journal of Environment Studies 78 (4): 608-623, 2021. Read here.
(7) Deloitte, "Return to a world transformed: How the pandemic is reshaping corporate travel corporate travel study", 2021. Read here.
(8) UNWTO, International Tourism Highlights, 2019. Read here.
(9) Statista, Distribution of travel and tourism spending worldwide in 2019 and 2021, by type. En anglais. Read here.
(10) Calculate flight emissions here.
(11) Greenspector. Read here.
(12) Greenspector. Read here.
(13) Stay Grounded, ETH Zurich. Read here.
(14) The Tyndall Centre Travel Decision Tree. Read here.
(15) This is The Coast, Online Meetings to Continue at North Yorkshire County Council, 2022. Read here.
(16) The University of Michigan News, Virtual conference CO2 emissions quantified in new study. Read here.
Cover photo © Christina Wocintechchat/Unsplash