Nonviolent Peaceforce

Nonviolent Peaceforce
Nonviolent Peaceforce (NP) is an international NGO committed to the protection of civilians living in areas affected by armed conflict through Unarmed Civilian Protection (UCP). UCP consists of the deployment of civilian teams, specially trained in non-violent methods of peacekeeping/building. Its mission is to protect civilians in violent conflicts through unarmed strategies, build peace side-by-side with local communities, and advocate for the wider adoption of these approaches to safeguard human lives and dignity.
Nonviolent Peaceforce is guided by the overarching values of nonviolence—the powerful moral force of social change—and independence, a neutral and non-judgmental perspective that helps them to bring people together within hostile environments without promoting the interests of particular groups of people or governments.
Key figures
Countries of intervention:

7

active country programs

(Iraq, Sudan, South Sudan, Philippines, Myanmar, Thailand and USA, with Head Office in Switzerland and advocacy presence in Belgium)

Number of employees:

522
Expenditure: USD 15,323,840 (2020)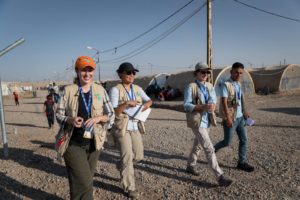 Partnership
Nonviolent Peaceforce acknowledges its role in reducing its own environmental footprint as an organisation. By joining the Climate Action Accelerator in October 2021, Nonviolent Peaceforce commits to reduce its emissions by 50% by 2030. Even before the formal partnership agreement, Nonviolent Peaceforce had begun working with the Climate Action Accelerator to construct a methodology for the roadmap starting in July 2021. It began working on its environmental roadmap in January 2022. 
Environmental commitment
Nonviolent Peaceforce recognizes that climate change, conflict and the protection of civilians are intimately connected and wishes to contribute to accelerating the transition to a low-carbon society. By partnering with the Climate Action Accelerator in 2021, Nonviolent Peaceforce reimagines its environmental approach in its operations by: 
Equipping itself with a roadmap and carbon footprint measurement, allowing it to reduce its greenhouse gas emissions and integrate the dimension of climate and environmental sustainability in its organisational practices

Identifying the baseline measurement of the organisation's environmental footprint in accordance with the Greenhouse Gas Protocol, as well as the existing good practices through an internal survey and focused interviews

Constructing an environmental roadmap (carbon, waste, plastics) that will specify the levers, the collective and individual actions to be taken, decarbonisation scenarios with milestones, a timeframe and monitoring indicators

 
2022
Development
of the environmental roadmap
The interconnections between crises of climate and violence can be seen across the world. We've long known that Unarmed Civilian Protection is an effective tool for conflict and climate response – but we also recognize that Nonviolent Peaceforce has a role to play in reducing our own environmental footprint as an organization. Nonviolent Peaceforce
Cover photo © Nonviolent Peaceforce.