About the event
On October 21 2022, 11h-17h CEST, taking stock of the climate emergency and its devastating consequences, and in the perspective of COP27, our three-panel event will explore the responsibility of all actors to accelerate decarbonisation practices and progress towards #netzero.
The first panel will share lessons and ways forward from the aid sector, the second will provide cross-sectoral insights from the health, education and business sectors, and the final panel will kick-off the Accelerator's work in building a generic roadmap for the aid sector and introduce key features of this innovative project.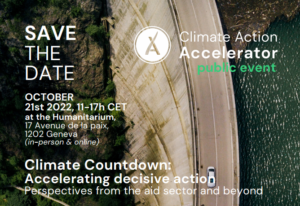 Add to your calendar
Registration details and program to come very soon! Subscribe to the newsletter to stay tuned.
This event is organised by the Climate Action Accelerator, with support from the French Development Agency (AFD) and the Swiss Confederation.
About the panels
Panel 1 – Climate action in the aid sector

---
After a brief presentation of the Climate Action Accelerator, the objective of this first panel is to capitalise on the first experiences of our partner organisations in the aid sector, to share key lessons learned and reflect on how to amplify the transformation at sector level. The panel will also be an opportunity to involve key stakeholders from the funding ecosystem in the discussion of how to support this shift in the sector, and to talk concretely about the domino effect that the Accelerator and its partners are aiming for.
Panel 2 – Sparking a cross-sectoral dialogue to amplify the transition
---
Reducing the carbon stock in the atmosphere and reaching drawdown requires a whole-of- society approach and a general mobilisation of all sectors. To contribute to this objective, we are organising this panel to generate a multi-sectoral reflection and dialogue on decarbonisation, with actors in the private sector, in health and in higher education, to learn from each other and amplify the ongoing efforts.
Panel 3 – The launch of the generic aid roadmap

---
This conference is an opportunity to announce, explain and launch the work of building a generic roadmap for the aid sector, with members of the high-level panel and technical experts, and to conclude the conference with a concrete project and momentum.
SAVE THE DATE | Climate Countdown: Accelerating decisive action

Download
Along with our events, our regular webinars explore solutions, share experiences and best practices, discuss implementation challenges and reinforce a global community of practice of organisations committed to accelerating climate action. Discover our solutions and thematic webinars here, and learn from a growing community of practice.
Discover our webinars
Cover photo © Mikael Kristenson/Unsplash.