Alerte Santé | AMCP-SP | BEFEN | KEOOGO | SOS Médecins
To accelerate climate action and resilience within national NGOs in Africa, these local actors have committed to moving towards a sustainable, resilient and low-carbon development model, while strengthening their medical and social action in favour of populations and communities. As partners of ALIMA, our collaboration with them began with the implementation phase of the ALIMA roadmap. The latter included raising awareness among its partners to reflect on their own climate and environmental strategies, and mobilising them to take climate action themselves. This is an essential principle of the Climate Action Accelerator: that our partners influence their ecosystems in order to contribute to transforming the entire sector.
At the end of May 2023, with ALIMA as our gracious host, the Climate Action Accelerator organised workshops in Dakar with 2 of these partners (Alerte Santé and KEOOGO), enabling us to go further in the co-construction of their roadmaps.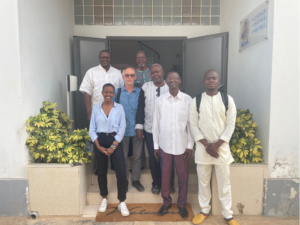 Find out more about our partners
Alerte Santé in Chad
Alerte Santé is a Chadian medical humanitarian NGO dedicated to promoting population health. Founded in 2010, it is based in N'Djamena, Chad, and works to help vulnerable populations in medical and/or nutritional emergencies or in situations of mass displacement.
AMCP-SP: Medical Alliance against Malaria - Population Health in Mali
AMCP-SP is a national, humanitarian, medical, apolitical, non-profit, impartial and independent organisation with a vision of "a Mali free of violence and discrimination, which ensures permanent access to healthcare for vulnerable groups and which has a functional mechanism for dealing with disaster victims".
BEFEN: Bien-Être de la Femme et de l'Enfant au Niger (Well-being of Women and Children in Niger)
BEFEN is an organisation dedicated to maternal and child health in Niger. Its aim is to promote the well-being of women and children in Niger by acting on their physical, mental, social and economic environments.
KEOOGO
KEOOGO  is a Burkinabe organisation officially recognised in 2004, whose main mission is to offer protection and rehabilitation services to particularly vulnerable children through targeted and effective partnerships.
SOS Médecins - Burkina Faso
SOS Médecins is a medical humanitarian association set up in 2006 with a social mission to come to the aid of populations in distress, disaster-stricken populations and populations made vulnerable by disease (HIV, malnutrition), age, incarceration or precarious social or economic circumstances.
Read more about our 5 new African partners on their individual pages