The climate crisis is a child rights crisis. Every day, millions of children are experiencing the devastating impacts of climate change. According to UNICEF, 2 billion children are in danger of one of the climate change and environment effects such as floods, droughts, fires, heatwaves and more. Tdh Foundation Roadmap
Tdh Foundation's footprint
TdhF's greenhouse gas (GHG) emissions in 2021 are estimated at a total of 18'500 tonnes CO2 equivalent. The carbon footprint is particularly concentrated in three categories of emissions: travel (27%), purchase of goods and services (46%, including capital assets and inputs) and freight (14%). These account for almost 87% of the organisation's total emissions.
Tdh Foundation's footprint reduction strategy
To reduce its footprint, Tdh Foundation has identified 28 solutions targeting the following domains: transport, purchase of goods and services, energy, waste, ecosystems, digital and transversal solutions on good practices.
Priority solutions
The key to success for the emissions reduction target over the next 7 years lies in 8 main climate solutions. In addition to these priority solutions for carbon reduction, 5 other solutions are considered essential to reduce local environmental degradation resulting from Tdh's field activities.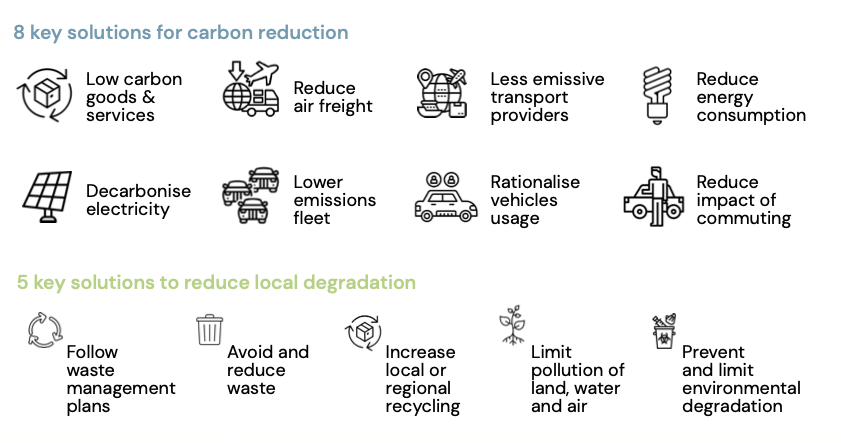 Decarbonisation trajectory
In a business-as-usual scenario, Tdh's emissions would reduce over the coming decade based on its financial growth projections and inflation, but not at the rate required. Halving emissions means drastically decoupling the evolution of emissions from the volume of its operations.
Tdh Foundation has committed to and is taking action to reduce its emissions by 50% by 2030, compared to its baseline emissions in 2021, excluding any accounting of carbon offsets.
Emissions, targets and reductions by 2030
Baseline emissions (2021 footprint): 18,500 tCO2e
Emissions projected in 2030: 9,250 tCO2e (-49.75% compared to 2021 baseline)
Estimated business as usual emissions (in 2030): 16,136 tCO2e
Total avoided emissions 2023-2030: 29,700 tCO2e
Tdh Foundation's Roadmap summary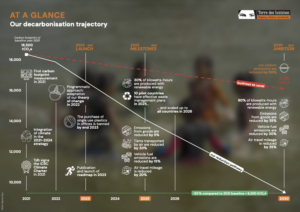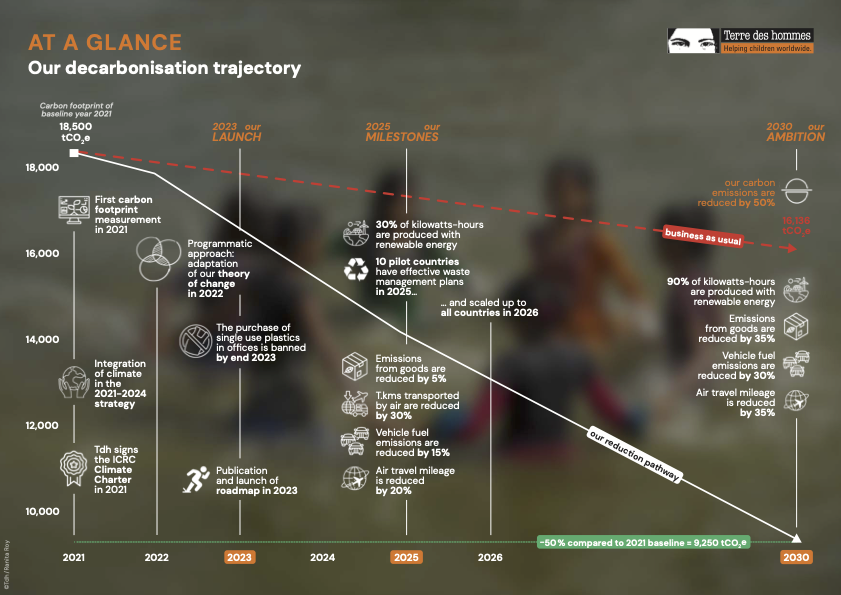 Cover photo ©Tdh Foundation.