We recognise that changes to the planet's ecosystem will increasingly challenge our operational responses. Global ecological changes lead to significant health and humanitarian impacts such as emerging and re-emerging diseases, both infectious and non-communicable, malnutrition, mental health problems, displacements and conflict. Health is defined not only by the absence of disease and infirmity through political, economic and social determinants of health, but also increasingly by ecological determinants. Understanding and acting upon these challenges calls for massive collaboration across disciplinary and national boundaries to safeguard our health. Strategic Orientation 2020-2023 for Planetary Health
OCG's footprint reduction strategy
To reduce its footprint, MSF OCG, with the support of the Climate Action Accelerator, has selected 32 tailored solutions. Together, they are the building blocks of a decarbonisation trajectory that will help OCG halve its carbon emissions by 2030 and reduce our impact on local environments. 
Over 90% of the emissions reduction goal over the next eight years relies on only eight main climate solutions. In addition to these priority solutions for carbon reduction, eight other solutions are considered critical to reduce local environmental degradation resulting from our field activities. A specific investment and project management effort will take place over the 2023-2025 period to accelerate the deployment of these key solutions in order to reach the first milestone of a 32% decrease in emissions by 2025. 
Key solutions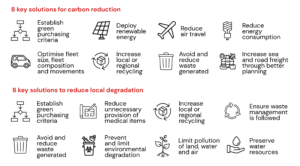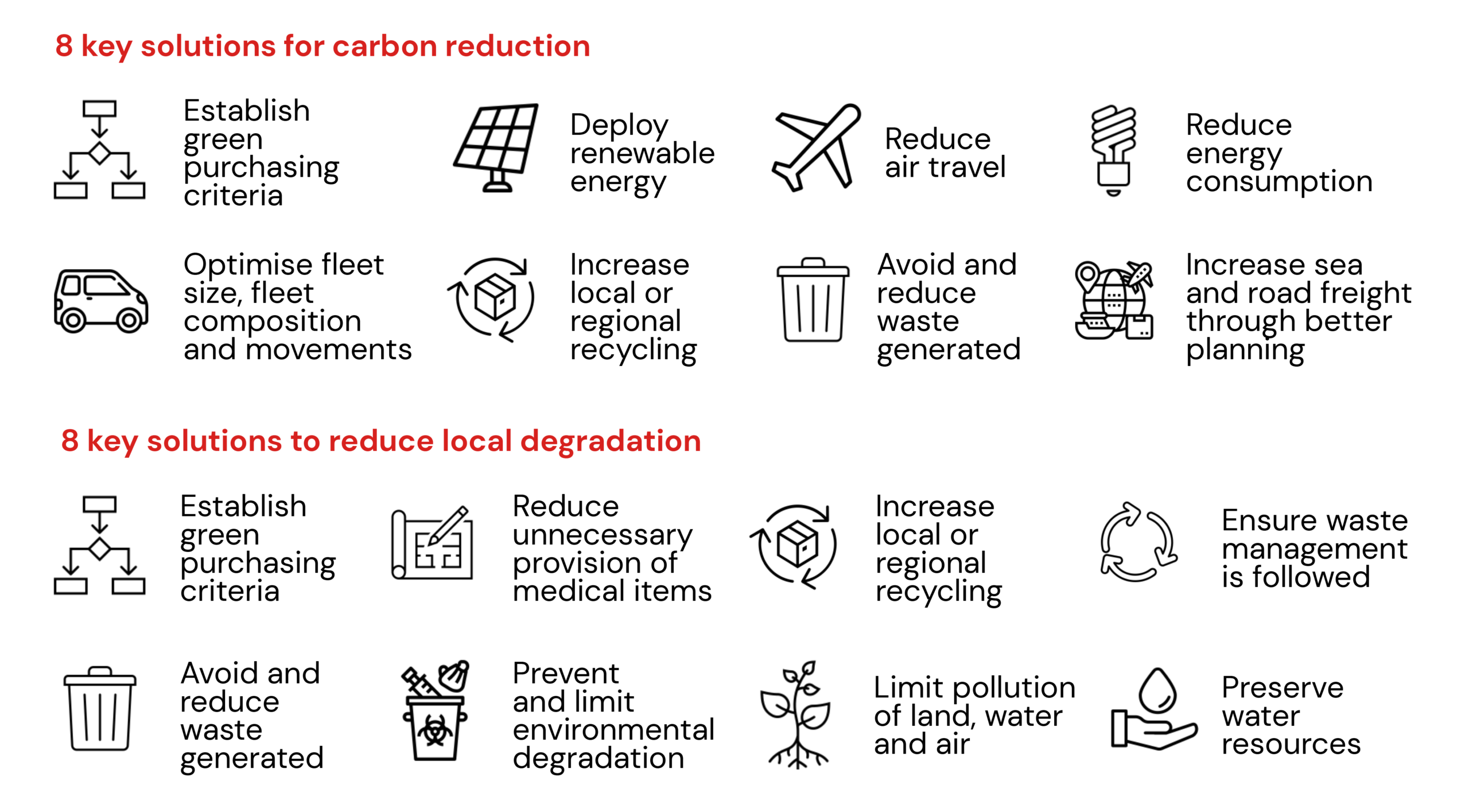 Decarbonisation trajectory
In a business-as-usual scenario, OCG's emissions would continue to increase over the coming decade, in proportion to the growth of its operations. Reducing emissions by half means drastically decoupling the evolution of emissions from the growth of material activities. With this trajectory, OCG plans to reduce its carbon footprint by 50% by 2030, compared to its baseline emissions in 2019 and excluding any resort to carbon offsets. In intensity, meaning compared to their projected business-as-usual emissions (72,000 tCO2e in 2030), OCG will reduce its emissions by 52%. 
Key facts
Baseline emissions (2019 footprint)
 68,700 tCO2e
Estimated business-as-usual emissions (in 2030)
71,900 tCO2e 
Projected emissions in 2030
34,380 tCO2e
(-50% (compared to 2019 baseline)
Total avoided emissions between 2022-2030
176,000 tCO2e