About this carbon footprint
This report focuses on one of the 6 MSF Operational Centres: the Operational Centre Paris (MSF OCP), that took in 2021 the commitment to reduce its carbon emissions by 50% by 2030 from a 2019 baseline (in 2022, the whole MSF Movement took the same commitment). The study, carried out in the framework of a partnership with the Climate Action Accelerator (CAA), quantifies the various sources of greenhouse gas (GHG) emissions for which MSF OCP is accountable. The approach complies with the international standards on the matter (ISO 14064) and follows the GHG Protocol methodology. 
The assessment outlines MSF OCP's carbon reduction commitments and explores its different activities to estimate the organisation's CO2 emissions in 2019, aiming to give an overview of its global footprint. 
OCP's 2019 total emissions : Key figures
Carbon footprint in 2019
92,000 tCO2e
Main source of emissions (categories)
Purshased goods: 33% or 53,000 tCO2e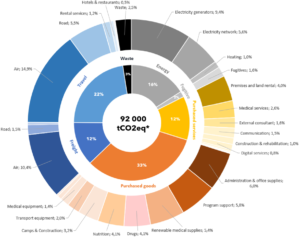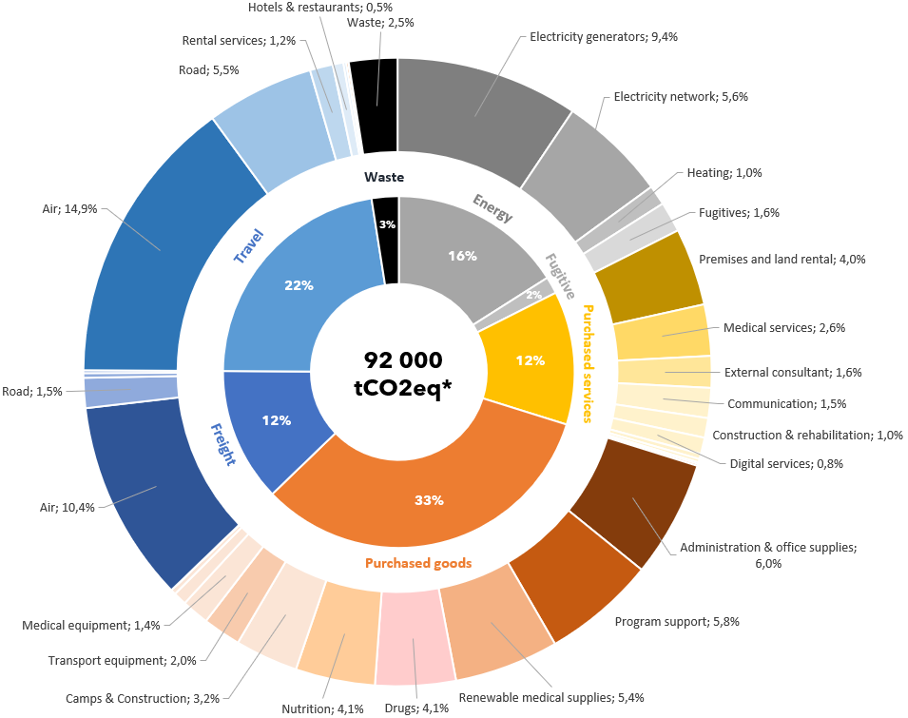 Sources of emissions
All purchases represent 45% of the total footprint, i.e., 41 600 tCO2e.
Purchases of goods represents 33% of the footprint or 30 300 tCO2e. This is mainly composed of medical supplies (drugs, nutrition, equipment, consumable), office supplies, transport equipment, construction material, and programme support items (generators, cold chain, etc.). Reminder: the few capital goods, or more specifically, purchases triggering an amortization, have been integrated in this category.

 

Purchases of services represents 12% of the footprint, i.e., 11 300 tCO2e. This covers the emissions coming from services performed by external providers, ranging from offices and

houses rent to digital services. 
All transport represents 35% of the footprint, i.e., 32 000 tCO2e.
Travel accounts for 22% of the footprint, i.e., 20 600 tCO2e. It is mainly business travel, the biggest share being international air travel, as well as road travel and public transport for a minor share.

 

Freight transport represents 12% or 11 300 tCO2e of the footprint, for the most part due to the share of Air transportation.

 
Energy emissions represent 16% of the footprint, i.e., 14 700 tCO2e.
About two third come from the emissions produced using electricity generators, a third from the local energy providers and the rest from heating. 
Waste treatment represents 2,5%; i.e., 2 300 tCO2e.
Most of it coming from medical waste incineration on the field. 
Fugitive emissions amount to 1,6%, i.e. 1 400 tCO2e.
Most of it being due to HFC and PFC gases from fridges and air conditioning system, the rest coming from the use of anaesthetics gases (isoflurane and desflurane) 
Cover photo © Lys Arango/MSF.