Environmental initiatives
Terre des Hommes Suisse engages in country-level environmental initiatives by developing programs and projects that involve children in concrete actions for a fairer and more sustainable world. With its expertise in education for sustainable and inclusive development, Tdh Suisse raises awareness of the environment among young people and children and their communities through different projects. To complement its environmental programming, Tdh Suisse has integrated environmental responsibility, with regards to its own impact, into its strategy.  
As a partner of the Climate Action Accelerator, Terre des Hommes Suisse has committed to halving its CO2 emissions by 2030, in line with the Paris agreement, to limit the rise in temperatures to 1.5 degrees Celsius.  
About the carbon footprint
This report provides a detailed account of the carbon footprint of the headquarters (IC) and national coordinations (NCs) of Terre des Hommes Suisse. It will be used as a reference to identify and measure the main sources of the organisation's emissions in order to help define a roadmap to limit its environmental impact. The perimeter includes: 
HQ in Geneva, Switzerland 

 

National coordinations in Bolivia, Brazil, Burkina Faso, Colombia, Haiti, India, Mali, Peru, Senegal 

 

47 employees 

 

A budget of 8.5 M CHF 
2019 greenhouse emissions: Key figures
Carbon footprint in 2019
491 tCO2e
Projected emissions in 2030
245 tCO2e
-50% compared to 2019 emissions
Main sources of emissions
Purchase and transport: 73.5%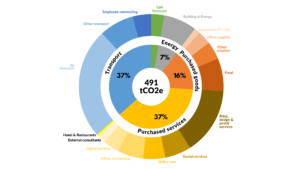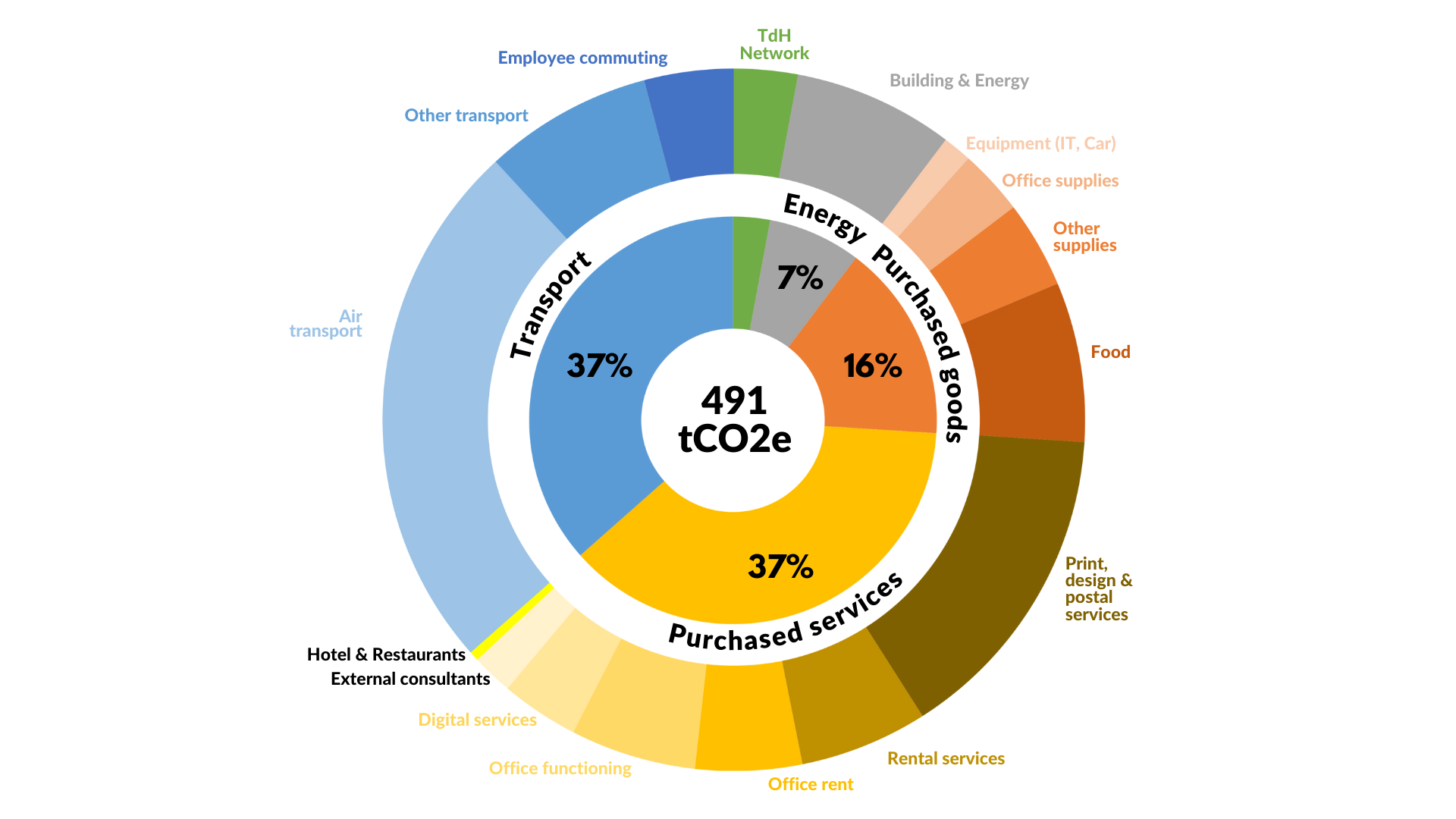 Sources of emissions
Purchase of services represents 37% of the footprint or 184 tCO2e.
This covers the emissions associated with the provision of services required for the successful functioning of offices and programmes.
Transport represents 36.5% of the footprint or 180 tCO2e.
This represents business travel (by air and road) and employee commuting. 

 
Purchases of goods: represent 15.7% of the footprint or 77 tCO2e.
This is composed of the emissions associated with the purchase of office supplies, small equipment and material investments. 
Energy emissions represent 7.4% of the footprint or 36 tCO2e.
This category comprises the emissions related to energy consumption of buildings (heating, and electricity).
Financial support (Tdh network) represents 2.9% of the footprint or 14 tCO2e.
These are all contributions paid to other organisations such as Alliancesud, Caritas and Label Zewo.