Environmental initiatives
terre des hommes schweiz (tdh schweiz) empowers young people in Africa, Latin America, and Switzerland. Together with them, the organisation fights poverty, violence, and discrimination and stands up for the rights of children and young people and just North-South relations. terre des hommes schweiz is committed to climate justice and supports young people in Switzerland and in project countries in their commitment. In Switzerland, it is a member of the Climate Alliance and internationally, as a member of the Ethos Foundation, it supports the Carbon Disclosure Project, which requires listed companies to reduce their greenhouse gas emissions.  
As a partner of the Climate Action Accelerator, terre des hommes schweiz has committed to halving its CO2 emissions by 2030, in line with the Paris agreement, to limit the rise in temperatures to 1.5 degrees Celsius. 
About the carbon footprint
This report provides a detailed account of the carbon footprint of the headquarters (IC) and national coordinations (NCs) of terre des hommes schweiz. It will be used as a reference to identify and measure the main sources of the organisation's emissions in order to help define a roadmap to limit its environmental impact. The perimeter includes: 
HQ in Basel, Switzerland 

 

National coordinations in Brazil, Colombia, El Salvador, Mozambique, Nicaragua, Peru, Tanzania, Zimbabwe 

 

57 employees 

 

A budget of 9.5 M CHF 

 
2019 greenhouse emissions: Key figures
Carbon footprint in 2019
399 tCO2e
Projected emissions in 2030
197 tCO2e
-50% compared to 2019 emissions
Main sources of emissions
70%
Purchase of services and travel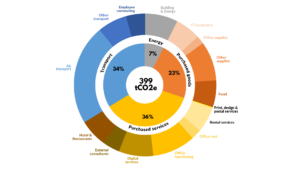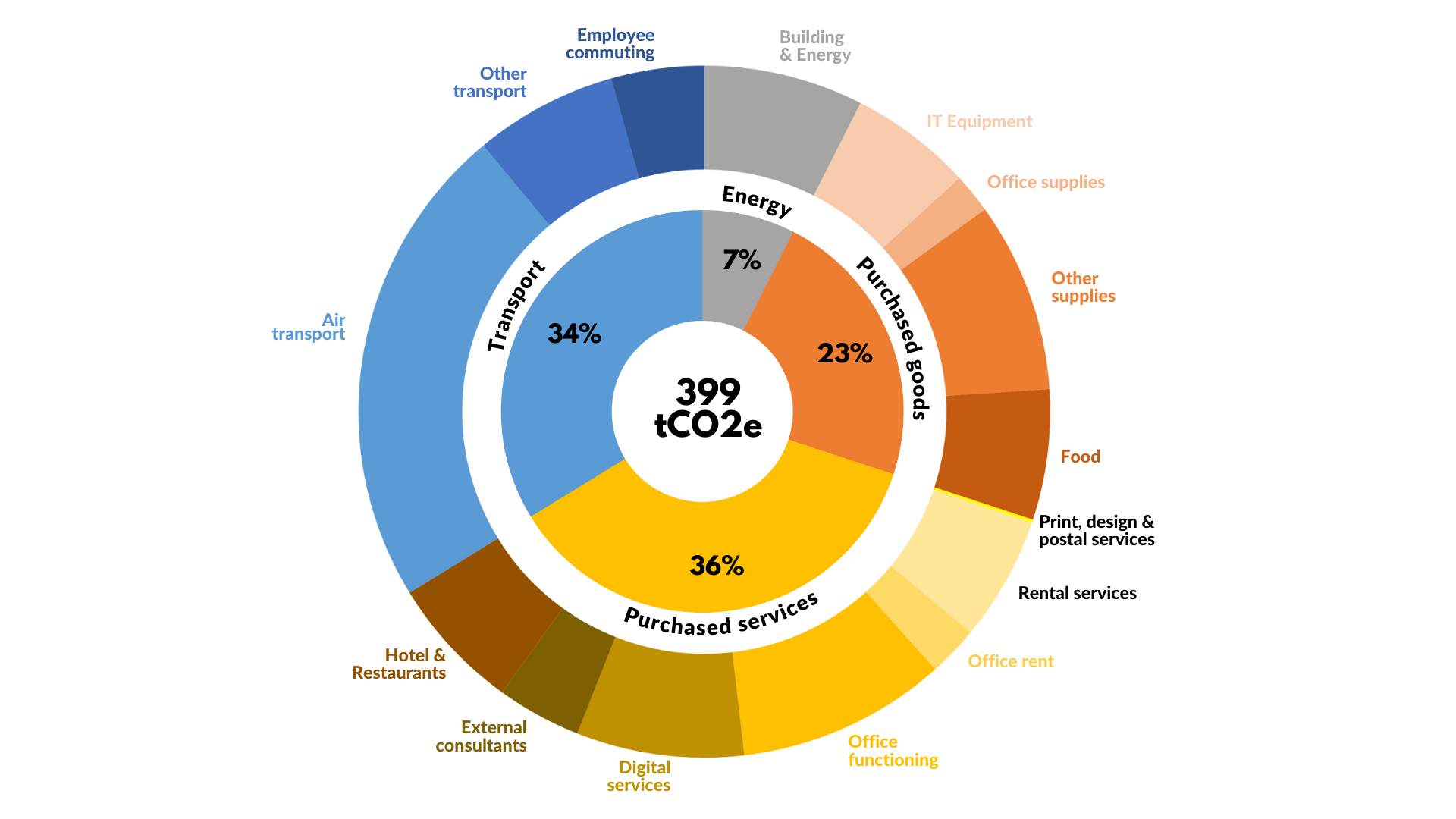 Sources of emissions
The carbon footprint is divided in 4 distinct categories and is particularly concentrated in two of them: purchase of services and transport. These two account for 70% of the organisation's emissions.  
Purchase of services represents 36% of the footprint or 144 tCO2e.
This covers the emissions associated with the provision of services required for the successful functioning of offices and the programmes.




 
Travel represents 34% of the footprint or 135 tCO2e.
This represents business travel (by air and road) and employee commuting.




 
Purchases of goods: represent 23% of the footprint or 90 tCO2e.
This is composed of the emissions associated with the purchase of food, IT and other equipment, office, and miscellaneous supplies.




 
Energy represents 7% of the footprint or 30 tCO2e.
This category comprises the emissions related to the energy consumption of buildings (heating, generators, and electricity).