Past carbon footprint initiatives
Médecins Sans Frontières Switzerland (MSF OCG) is an international medical and humanitarian non-governmental organisation, committed to a sustainable and resilient aid delivery model. 
The first carbon footprint initiatives were undertaken in 2009 through a Green Unit, after the Green Motion was voted on at the General Assembly in 2007. As part of an ICT pilot project launched in 2018, OCG was audited by the company Maneco on its carbon footprint. This partial assessment of the Geneva headquarters estimated emissions at 3,747 tonnes of CO2 equivalent, plus 13,117 tonnes for air travel at field level. 
In 2020, the organisation pledged to reduce its carbon emissions by 50% by 2030, in line with the Paris agreement, to limit the rise in temperatures to 1.5 degrees Celsius. 
About this carbon footprint
The present study aims to improve the existing assessments and present a complete footprint. Over a period of 6 months, data was collected and analysed following the principles of the World Resources Institute (WRI) Greenhouse Gas (GHG) Protocol and complies with the international standard on the matter (ISO 14064). 
The carbon measurement is applied to all entities that are financially dependent on OCG. This includes the Geneva headquarters (excluding the International Office), the Zurich headquarters, the Dakar cell, as well as all countries where OCG has made an expenditure. The perimeter includes:  
HQ in Geneva, Switzerland and field offices in 29 countries

 

Financial participation for MSF South Africa, MSF Canada, MSF international, CAMe, DNDi, International office, Epicentre

 

6700 employees 

 

A budget of 260 M CHF 

 
OCG's 2019 total emissions : Key figures
Carbon footprint in 2019
68,766 tCO2e
Projected emissions in 2030
34,380 tCO2e: -50% (compared to 2019 baseline)
Main source of emissions (scope)
Scope 3: 77% or 53,000 tCO2e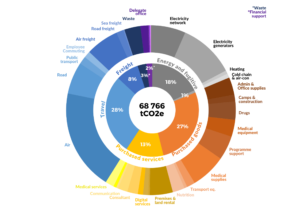 Sources of emissions
All purchases represent 40% the total footprint, i.e., 27,661 tCO2e. 
Purchases of goods represent 27% of the footprint or 18,649 tCO2e.

This is mainly composed of medical equipment and supplies as well as others including office, transport, construction, and programme support equipment. 

 

Purchases of services represent 13% of the footprint, i.e., 9,013 tCO2e. This covers the emissions coming from services performed by external providers.
All transport represents 36% of the footprint, i.e., 24,756 tCO2e 
Travel represents 28% of the footprint, i.e., 19,329 t.CO2e. It is mainly business travel, particularly air travel, as well as road and public transport. 

 

Freight represents 8% or 5,426 tCO

2

e of the footprint. 

 
Energy and fugitive emissions together represent 19% of the footprint, i.e., 12,865 tCO2e.
Energy (with 18%, i.e., 12,317 tCO

2

e) represents the emissions from electricity consumed on the local networks or produced by the organisation itself.

 
Waste represents 3% (i.e., 2,115 tCO2e) and financial support 2% (i.e., 1,369 tCO2e). 
A few large items are responsible for more than half of the total footprint:  

Passenger transport by air: 13,235 tCO2e 

 

Electricity generation and use: 11,866 tCO2e 

 

Purchase of medical or paramedical goods and equipment: 9,230 tCO2e 

 

Freight (transport of goods): 5,426 tCO2e 

 

This brings the total of these four items to 39,757 tCO2e or 58% of our total emissions. If we look more closely, the use of aircraft in freight and passenger transport alone accounts for 17,563 tCO2e or 25% of total OCG emissions.