ICRC's total carbon footprint
ICRC's total carbon footprint is 1 032 847 tonnes of CO₂e in 2020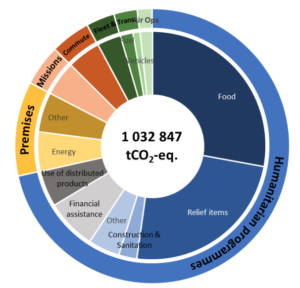 © ICRC Carbon Accounting 2020 Report.
64%
Purchased goods and materials
5%
Use of distributed products
The ICRC's 2020 GHG emissions are, to a large extent, scope 3 emissions – i.e. emissions over which the ICRC has a lower level of control. Emissions related to our supply chain – the production of the food and relief items we distribute – represent 64% of our emissions. 
Scope 1 and 2 emissions are largely explained by our reliance on diesel for electricity generation as well as the consumption of electricity from the grid. 
Two key performance indicators
---
The ICRC follows two key performance indicators, on top of the total GHG emissions, when it comes to its carbon footprint:  
GHG emissions per CHF of expenditure

For 2020, this amounted to 0,562 kg CO2-eq./CHF (- 17% compared to 2018).

GHG emissions per employee

For 2020, this amounted to 64 300 kg CO2-eq./employee (- 6% compared to 2018).  
The ICRC's 2020 carbon footprint shows a reduction of 10% compared to 2019 (-17% compared to 2018), for the following reasons
---
A decrease in food purchases led to a reduction in related emissions; however, there was an increase in emissions linked to the procurement of relief items, as carbon-intensive products such as soap and shampoo were distributed in higher quantities to support the ICRC's efforts to help stem the spread of Covid-19;

 

Emissions linked to air freight increased due to the need to rapidly deliver relief and other items to ICRC structures worldwide and the constraints faced by sea freight.
Teleworking policies and other necessary measures imposed by the respective officials in each context, or taken by the ICRC as a preventive step, contributed to a reduction in the organization's consumption of electricity and natural gas;

 

Emissions from travel and employee commuting were lower than in 2019 (-61% and -42% respectively) as a result of travel restrictions linked to Covid-19;

 

Emissions from the use of distributed products decreased significantly, as the distribution of coal and charcoal for winter assistance was restricted to a few post-conflict contexts.

 
ICRC Carbon Accounting 2020 Report

Download
Cover photo © Wassy Kambale/ICRC, Congo, 2021.