In 2020, ALIMA decided to carry out its first carbon assessment which was done within a few months. Discover the carbon footprint of ALIMA, the NGO that is transforming humanitarian medicine.
Discover ALIMA's carbon footprint report
ALIMA's total carbon footprint: 12,950 tonnes of CO₂e in 2019
This footprint perimeter corresponds to all the organisation's sites and facilities as well as all its missions in 2019:
11 countries (Nigeria, Niger, Mali, Mauritania, Chad, Cameroon, Burkina Faso, DRC, Central African Republic, South Sudan, Guinea) including the headquarters in Dakar and Paris
1,920 employees
61 M€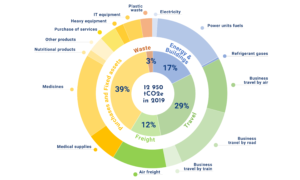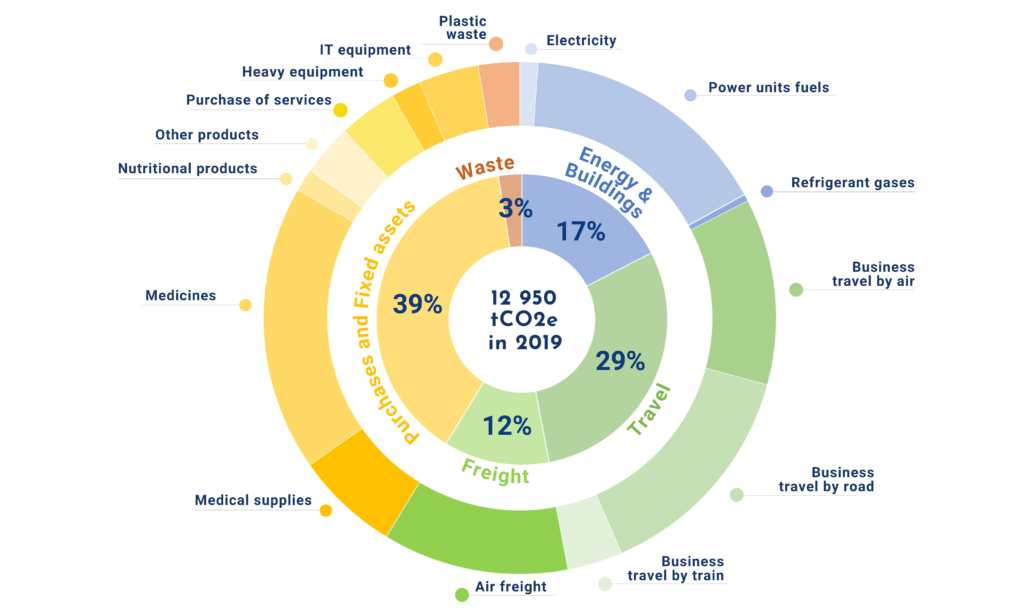 Purchases and fixed assests 39%
Three main sectors
Three sectors – transportation, purchases and energy in buildings – account for 97% of Alima's footprint in 2019.
#1 Transportation

Accounts for 41% of emissions (5,345 tCO₂e). This includes business travel and commuting, which account for 29% of the footprint, as well as freight (mainly air), which accounts for 12% of the footprint.

#2 Purchases of goods and services and fixed assets

Account for 39% (5,010 tCO₂e), 33% being for purchases of goods and services and 6% for fixed assets.

#3 Energy

Accounts for 17% of the footprint (2,257 tCO₂e) mostly consisting of fuel for generators, as well as electricity consumption on the local grid, natural gas heating for the Paris office and refrigerant leaks from air conditioners.

#4 Waste

Emissions from waste represent 3% of the footprint (337 tCO₂e).
ALIMA Carbon Footprint Report 2019

Download
Cover photo © Olivier Papegnies/ALIMA.